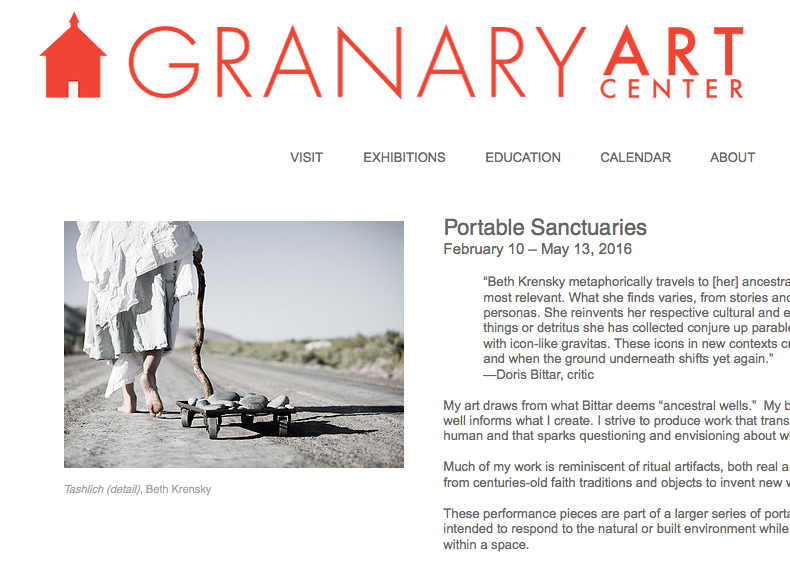 Portable Sanctuaries at Granary Art Center in Ephraim, Utah
Artnauts: Diaspora and Movement
February 10 – May 13, 2016
Sandy Brunvand
Positive Space of Silence
Upper Gallery
Beth Krensky
Portable Sanctuaries
CCA Christensen Gallery
V. Kim Martinez
7 Steps Forward 7 Steps Back
Main Gallery
Sandy Brunvand, Beth Krensky and V. Kim Martinez are the Utah members of the international artist collective, Artnauts. Founded in 1996 by five artists, including Krensky, the Artnauts have had 226 exhibitions in 19 countries since their inception.
The collective uses the arts as a tool for addressing global issues while connecting artists from around the world. The group has exhibited work in museum, university, gallery and public spaces on four continents and has captured the attention of art critics both in the United States and internationally. The work of the collective is rooted in an engaged practice that draws from Joseph Beuys' construct of "social sculpture," Paulo Freire's "conscientization" or critical consciousness and Nina Felshin's definition of "activist art."  The collective has worked at the intersection of critical consciousness and contemporary artistic practice to impact change for two decades.
This exhibition highlights the work of Artnauts residing in Utah, all of whom create work that addresses larger issues impacting people and places. The work shown here makes use of ritual, varied media, imagery and three unique approaches to studio practice to explore the meaning of movement, broadly defined.
Beth Krensky and V. Kim Martinez' work explores diaspora. Merriam Webster defines diaspora as "the movement, migration, or scattering of a people away from an established or ancestral homeland."
Martinez physically traversed routes used by Mexican/Native American migrants for thousands of years along the now United States and Mexico border to inform her work.  7 Steps Forward 7 Steps Back is the result of her physically and emotionally strenuous journey that ties together her familial history with a larger narrative of migration and borders.
This exhibition is supported in part by Utah Arts & Museums, with funding from the State of Utah and the National Endowment for the Arts.